I hear the headaches are a bitch.
It's like The Joker and Ozzy had a love child!

What do they call rookie Stormtroopers?
Cloudywithachanceofraintrooopers?
I come to give a Panettone. Last year I had seven given to our family by visiting relatives over Christmas. This year I've received four so far. I'll give you all one too.
This tomato from my garden grew a horn, or is it a finger?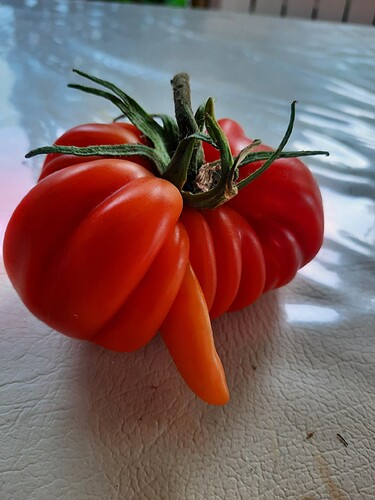 Over excited in the heat, or it's giving mother nature the finger?
I remember referring to panettones to foreigners before (both American and English) and they had no idea what I was talking about. It's a very traditional Christmas cake in Brazil and we love it. It's great to know that someone in the English-speaking world knows about it, phew!
I love heirloom tomatoes just for the level of weirdness they can achieve! That one's something special.
My parents and relatives are Italian, I didn't know panettones were a tradition in South America! I tend to give coffee, chocolates or liquore as gifts when I visit relatives during festive seasons, I'm thinking they probably got given several panettones already.
So weird! We all made jokes about it at home.

I'd never had one until a few years ago, when my now son-in-law mentioned liking them. They're very tasty!
Yes they are great for sauce and also fresh! I wonder what I'd get if I cross pollinated it with a Roma.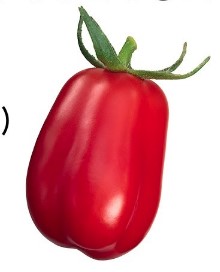 It does that under the chin thing and does not give the finger?

I had it dribbling down my chin, chopped up with garlic, basil, olive oil, salt and fresh crusty bread.

The first time I tried pannetone was the traditional kind. Full of all the things I don't like ie raisins, other dried fruits and I think hazelnuts. The cake part was unpleasantly dry. A couple of Christmasas ago when our son, his GF and baby surprised us with a visit ( they live In Australia so it really was a surprise) they brought a big pannetone. It was in a beautiful tin, decorated by a well known artist whose name I've forgotten. It was lemon and chocolate and divine. No nasty bits of prunes or peel and because the flavour was so delicious the texture didn't bother me. I don't know how Italians feel about this, but just warming it in the oven for a few minutes made the chocolate melt a little which did wonders for the texture. To me. Nobody else liked it. It's so DRY was the reason. How is it traditionally served in Italy? There's no getting around it, it is dry and crumbly even when it's fresh special edition. I ate 90% of it. In increments, of course but if I saw a lemon and choc again, I'd buy a little one just for me.
You could always dip it in coffee or brandy or something.
They can be soft & doughy, or so dry that it sticks to the roof of your mouth. It's usually served with coffee. Some use it for tiramisu, trifle or pudding. There are stacks of them in the continental section of supermarkets here during the festive seasons, and there are some still in stock which will linger on to Easter when Colomba cake another festive yeast cake is gifted. Some supermarkets here are all ready stocking hot cross buns. Is it too early to talk about hot cross buns? I like them fruity and toasted with butter.