I'm on vacation for THREE WEEKS.
Hurray! I have two more workdays to go (damn snow days)!
I did some baking today. It was cold, grey & damp outside, ideal to turn the oven on & warm up the house a bit. Mixed fruit & nut and banana & walnut cake. Turned out well, the banana cake has a crack on top, must have had the oven on a bit too high.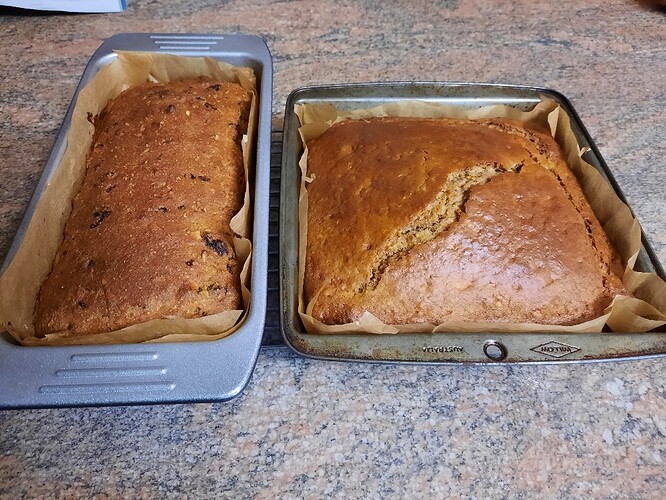 That looks delicious! I've always thought the best quick breads have a crack on top.
I had some for breakfast on the go this morning with coffee. All set for work, today was a Public Holiday, The Queen's Birthday. God save the Queen.
Athens had its first ever Official Pride Parade this weekend and turnout was pretty great for a first go round.

Finally decided to come back to the fold after all these years. I missed this place.
Only seems like yesterday that we experienced all those amazing gigs inclusing Bush Hall, St James Church, Jools Holland and The Apple Store and many more…
Hello again everyone.!
I'm still on vacation and it's still relaxing.
Conversation with two another fans in the row behind me at the Def Leppard/Mötley Crüe/Poison/Joan Jett and the Blackhearts concert yesterday:
Fan #1: "Joan Jett was great! I'm glad I finally saw her live. I was supposed to see her a couple of years ago, but that show was canceled because of COVID."
Me : "This was my third time seeing her in concert. I saw her at Music Midtown about 15 years ago. In 2019, I saw her in this small town square amphitheater in Sugar Hill, over near Duluth."
Fan #1 : "Sugar Hill? Really? I didn't know about that show."
Me : "That was really something else. That Sugar Hill amphitheater is one of those tiny places where oldies bands usually play, so it was fun to see her in a place like that."
Fan #2 : "Joan Jett and the Blackhearts are an oldies band."
Me : …"Oh, yeah. That's true."
I'm still on vacation. I'm at the point that I can't remember what day it is. And what time I get out of bed is determined by this much of the space has been claimed by my cats (Generally, 11am, because they've pretty much claimed the whole space by then.)
I needed this break for many reasons. I have other stuff going on that I'm not gonna post on, but it's positive. Two weeks ago I wasn't doing so well because the pandemic had taken a toll on my relationship with my job. But now, im doing pretty well.
I don't chime in here much, but I had just returned to my job in Yellowstone National Park after 2 years off due to covid. The weather was cold and wet for the first 5 weeks, but the job was going really well… and then we got hit with historic flooding that washed out 2 of the 5 entrances to the park. I thought my partner and I might lose our jobs again but the park has reopened on a limited basis. We're relieved to still be working but many friends are having it rough right now and full recovery will take some years. Just trying to ride out the chaos… I guess now we can say we were here for some history.
Oh, shit. How are they working through and around the flooding?
I've seen the flooding on the news. Just awful. Please stay safe!
The park's roads make a figure-8 double loop, and the two entrances that washed out are on the north. The southern loop is now open for those with lodging reservations inside the park. Day use is being regulated via an alternating license plate system that seems to be working pretty well so far. It is hoped that within a few weeks, the northern loop will open with limited services and a reservation system will be implemented. The bad news is that one of the washed out roads is a major infrastructure conduit connecting park headquarters with the town of Gardiner, Montana, which houses several business headquarters, the park's cultural resources center, a large number of shared community services, and many park employees. The only backup is the old stagecoach road, which up until the flooding was open only for hiking and biking. Now work is underway to improve it enough to allow essential staff to commute, but plans are also being made to construct an entirely new entrance road–this will take years and involve major engineering challenges. Meanwhile, for the company I work for that operates the park hotels, we lost two entire locations and had to move nearly 400 employees to new assignments or jobs outside the park. It's been pretty crazy and probably my biggest safety concern right now is getting covid from the influx of new people. We were fortunate to be far from the serious flooding, but many in the Yellowstone "family" were impacted with job losses, property damage (or destruction), loss of commute options to the park, etc. Many of these same people and their livelihoods were already battered by the pandemic. It's been a lot on top of a lot, as someone in Gardiner put it. Anyway, sorry if this was too much detail! Or not enough…
Not too much detail at all!
Stay safe, y'all.
I was at most of if not all of those gigs. Did you have a different user name before?
Still trying to sell our house. It's going slowly (I blame interest rates). Dog got skunked on Monday night so that's been fun. Today is my son's last day of grade 3 so that's good.
So a mixture of waiting, frustration and normalcy.
I was TheEpony for a long time and I think FredBlessy before that…
I went to them all with a mate of mine, we'd always spend all bloody day queuing to get into the places early. Seemed to remember queuing for 9 hours for the Apple store gig…crazy now when you think back.
I'm in, what i can only describe as a comfortable limbo. Can't quite explain it. I can say it's not med related. I felt this way before recent events.
I've been in DC since last Friday. Was there for a conference and to see some friends. Conference was good. Ate some good food. Went shopping. Met up with some family (my cousin's kid, said "kid" is now 37). I haven't seen him since he was really little. He was delightful and it was really great to get to know him.
Spent a couple hours in Farragut Square this morning after I checked out of my AirBnB.