I have the Hibtone and IRS 7" of Radio Free Europe. I've played them each once.
That was you?! Amazing! Possibly the best prized possession so far!
I somehow managed to get front-row seats to see the band in '99 on the Up tour, and Michael handed us the lyric sheet for Find the River, which we never expected to see live in the first place. A totally magical experience.
That's the best R.E.M. object in my collection of other very good ones

I remember flipping & studying that note book. Up came out when I was going through some emotional stress and it journeyed with me to a better place.
A setlist from a 2004 show in London, Ontario. My late son, who was 9 at the time and I had front row seats. Peter and Michael noticed him and waved at him more than once after my Bobby waved at them. At one point during Religion, Michael pointed to Bobby while singing the "That's me in the corner" line. Right after that a stage worker tapped me on the arm and handed me a setlist and pointed to Bobby. We had a great time that night. That was the first of dozens of live shows my son and i went to. RIP sweet boy. Thanks for reading.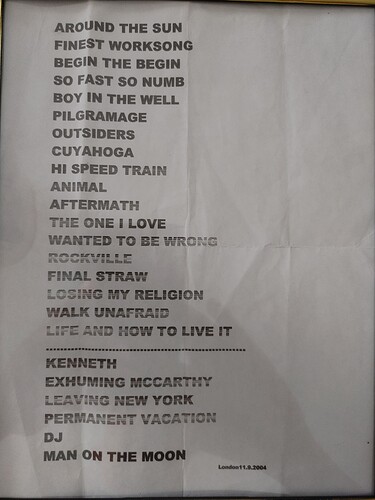 My French teacher in second grade gifted me her 1994 fanclub single this was 2001-2002), because she knew I was such a huge fan. I'm still touched by the gesture when I think about it, so I'd have to go for that.
Wow. What a beautiful memory. Thank you for sharing.
I have a Bass beer bottle he drank out of at a Kevn Kinney and Peter Buck show back in about late 91. He sat it under a pool table and I went over and grabbed it later.
Yup, that's the one! Absolutely love that photo of them.
Tourfilm…it's magically delicious!
You surfaced a memory I had forgotten of a girl sitting on my bed in my dorm room and talking about that poster and how much she liked Michael. I don't remember who she was though.
These are all so fun!





I still have a backstage pass sticker from their 'In Time' tour. I went backstage and met Mike and Peter. Peter was the cool rock star and Mike was so sweet.
I just remembered another memory. I went to all three nights they played at Stirling Castle in 1999. It was a magical few days.
They played Pilgrimage on one of the nights. I was the only person near me who was singing along. I caught Peter Buck's eye at one point, and he seemed to smile.
I might have imagined it! But I'm holding on to that memory anyway.
The Automatic Box will always be precious to me. I was lucky to find it at Best Buy, back when they sold Imports. I used some Birthday money to buy it. I was SO excited to hear some fresh R.E.M. songs. I had my portable CD Player with me, and I listened to it at Sizzler while having lunch with my parents.
How did I miss this one?
I won the test pressing of the RFE reissue at the Wuxtry record release night! My genuinely shocked face then ended up on the band's timeline.
Best crazy many-hour round trip I've done in a loooong time.
Ooh, have a few bits although nothing spectacular.
I have every ltd edition album from OoT to Reveal.
Loads of original IRS 12" and 7" vinyls incl. So. Central Rain and One I love promos, coloured vinyls and Nightswimming picture disc
Stand 3" single still in original WEA blister pack.
All Up 3" singles still in cellophane.
Automatic Box b-sides and rarities.
Murmur on 24ct Gold CD taken from the Master Recordings (weird but cool).
Probably missing some bits but my most valuable is more REM inspired but I'm including it. A 1994 Jetglo Rickenbacker 360 and E-bow plus. Saved up enough to fly from the UK to NY to buy it when I was 17. Absolutely no REM influence at all

I have a ton of R.E.M. memorabilia since I used to be an avid collector, but the best items are:
A miniature chair designed by Michael using the Up artwork that I bought at a charity auction. I met him at a party here in Atlanta and showed him a picture of it; he seemed really surprised and said "Take good care of that, there's only one." I don't know if that's true, but I hope so! I told him my cat used to love to sleep in it which he thought was funny. Such a ridiculously nice guy in person and very generous with his time.

Took my 12 year old daughter to a show at Chastain Park here in Atlanta in 1999 and we were in the front row of the fan section. During one particularly rocking song (don't remember which one), Michael slammed the mic stand into the stage and snapped the top off; he sang with it a bit longer with it disconnected and then dangled it over the crowd. Somehow I was able to get two hands on it and came up with the prize. It's mounted in a shadowbox with the tickets, his typed lyrics to "Sweetness Follows" that he wadded up and tossed into the crowd and a program from that night.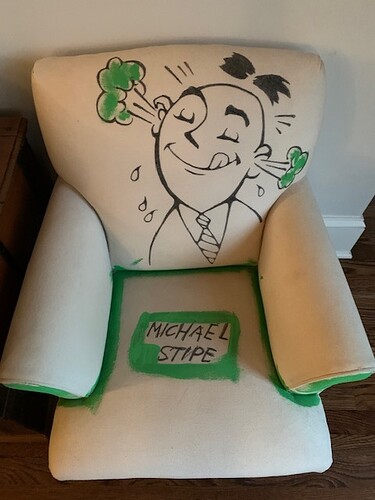 That chair is great! My cats would like it too.

Shows how much I loved that cat.