Mentally I have a list. It's pretty short.
Mine keeps changing. I'm never sure what to make of people who have a hard and fast one.
Mine doesn't. Well it does. But the favorites are always the same: King of Birds, Around the Sun, Blue. All emotional songs which is why I actually lean towards them because they allow me to emotionally open up. I am absorbed. I add to that list occasionally, but those usually fall off.
You mean, favorite R.E.M. songs only? I posted mine on Facebook about two-three weeks ago. It wasn't exactly a "list of favorites", but more like an exercise about trying to come up with "My top 100 R.E.M. songs". Took me literally a year of coming back to a list of 150 and trying to trim it, and some good ones were left out, but here:
(Ah, and before I forget: people went absolutely nuts because it wasn't in order of preference or alphabetically organized. Don't care. The proposition was just "Top 100 songs")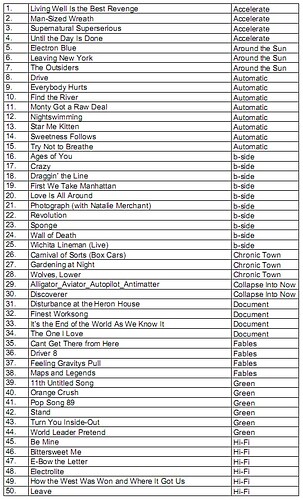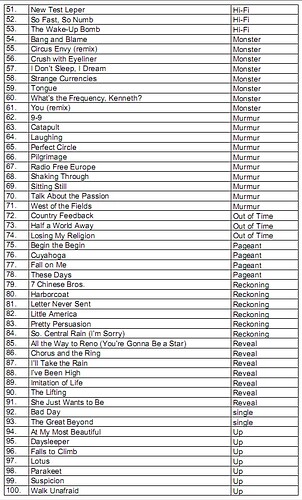 I probably have but I have no idea what they were but I have listed some of my favorite albums. I kept getting frustrated by having to leave out albums when making Top 10 or Top 20 lists so a few years ago I made a list of 100 of my favorite albums that I posted as a Note on FB. Beyond the top 20 or so, it was not in any sort of order. I love music but there's no way I''m putting that amount of thought into it so after those first 20 or so it's completely random. Even then, there was some I left out. Also, there have been some new albums released since then that I'd like to add.
Top 3: Okkervil River - Black, Son Volt - Windfall, Hello Saferide - Last Night Bus.
A few years ago, I got the idea to compile a "Jason's Awesome Mix", inspired by the mix tape in the movie, Guardians of the Galaxy. I gave it a go, but found that I would edit it every time I looked at it. The below list is the closest that I came to a final version, but there are too many great songs left out, and this list is quite 80s-centric. The Van Halen and Stevie Wonder songs would sound really out of place on an actual mix tape, but I would hate to leave them out.
The Cure - "A Forest"
New Order - "Temptation" (1982 version)
U2 - "Out of Control"
The Church - "10,000 Miles"
Joy Division - "Transmission"
INXS - "Don't Change"
Depeche Mode - "Get the Balance Right"
Simple Minds - "New Gold Dream (81/82/83/84)"
Til Tuesday - "Voices Carry"
The Psychedelic Furs - "Heaven"
The Smiths - "William, It Was Really Nothing"
Echo and the Bunnymen - "Rescue"
Actors - "We Don't Have to Dance"
Duran Duran - "Planet Earth"
Sade - "Smooth Operator"
Orchestral Manoeuvres In The Dark - "So In Love"
R.E.M. - "Driver 8"
The B-52's - "Dirty Back Road"
The Chameleons - "Nostalgia"
Prince - "I Could Never Take the Place of Your Man"
Ride - "Like a Daydream"
Interpol - "Untitled"
David Bowie - "Sound and Vision"
Van Halen - "Little Dreamer"
Stevie Wonder - "You Are the Sunshine of my Life"
I'm in the same boat Astrid. Mine would be on a random loop, that was constantly updated.
I will say…unless someone writes a better song than Leave (spoiler alert: no one yet) it will always be up there. At least, the top five, so far it's numbero uno.
Stependous list. Congratulations on your good taste.
I tried to come up with a "top 20 desert island" list a while ago and have been revisiting it since, but the best I can do is a, uh… "top 32 desert island" or so:
Beach Boys - God Only Knows
Blur - Tender
David Bowie - Heroes
Chris Isaak - Wicked Game
Cranberries - Ode to my family
Editors - Blood
Gin Blossoms - Till I Hear It From You
God Help The Girl - Funny Little Frog
Grand Funk Railroad - Gimme Shelter
Grant Lee Buffalo - Fuzzy
Inspiral Carpets - This Is How It Feels
Kraftwerk - Kometenmelodie 2
Morphine - Candy
Muse - Butterflies and Hurricanes
New Order - Blue Monday
Oasis - Don't Look Back in Anger
Pixies - Where Is My Mind?
R.E.M. - Fall On Me
R.E.M. - Leave
Roxy Music - 2HB
Sting - My one and only love
The Beatles - Here, There and Everywhere
The Coral - Dreaming Of You
The Cramps - Bikini Girls With Machine Guns
The Cure - Lullaby
The La's - There She Goes
The Raspberries - Go All The Way
The Stone Roses - Waterfall
The Sweet - Ballroom Blitz
The Zombies - Time Of The Season
The Velvet Underground - Heroin
XTC - King For a Day
I mean, I'm sure several of us in this thread attempted to back in the day- because lists. Didn't' we? Frog? Jason? Jonathan? It's an arduous task, but a noble one. I pledge an attempt as soon as possible. Quick few- Driver 8, Melissa (Allman Brothers), Pieholden Suite (Wilco), Cherry Bomb (Spoon), Tear Stained Eye (Son Volt), First Night (The Hold Steady).
Great Son Volt song. I start every road trip with it.
So many great songs on here- you sneaky bastard.
Oh crap…now I've got to come up with a road trip mix.
Don't you need a road trip first?
I assume once I've got the mix, a road trip will present itself.
I like the way you think.