I started collecting vinyl early on during the pandemic. I already owned about 100 records before I had a turntable, mainly for decorative/collector purchases, but I've accrued hundreds more since, most of them >$10 purchases from local used stores.
My first turntable was an Audio Technica LP60X, but I found that it would skip on records with certain bass dynamics. I switched that turntable out for an Audio Technica LP120X, so that I could adjust the tracking and counterweight to my liking. The LP120X has been amazing so far, and has not let me down at all.
I use Klipsch powered bookshelf speakers, since my LP120X has a built-in pre-amp.
The vast majority of my records are original pressings of early 1980s synth-pop/new wave/alternative bands.
I never got rid of my first stash from when it was just called buying records. These days I partly buy new albums and speaker shagger Floyd pressings for listening and partly old 45s for collecting (though they do get the occasional spin, too). Got a bit of the former and the latter at my rather fine local record store this morning and am looking forward to putting on the album for a proper listen tonight.

I use a 1983 Dual CS 514, which does the job just fine for what I felt ready to spend on it and recently upgraded my amp from a Pioneer A-335 to a Pioneer A-400 that's giving some of my stuff a whole new lease of life. Best €150.00 I've ever spent on gear. Next time I have some dosh left over for equipment, I'll probably upgrade the turntable to a Dual CS 5000. The dream is a Technics SL1200 Mk2 (of course), but if I had that money going begging, I'd probably prioritise a Strat.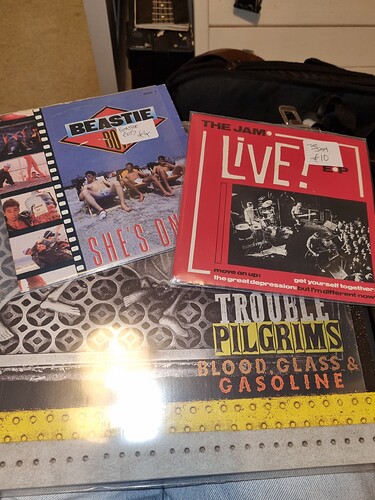 Thats the last batch i bought from discogs. It arrived on thursday.
The main one i wanted was Sweetheart of the Rodeo and i just checked what else i would maybe like from the same seller. For some reason i bought two Commodores Live albums, so one will become a gift i guess. I think i have around 450 vinyl records.
Oh, and the cat (Artur) didnt come in mail.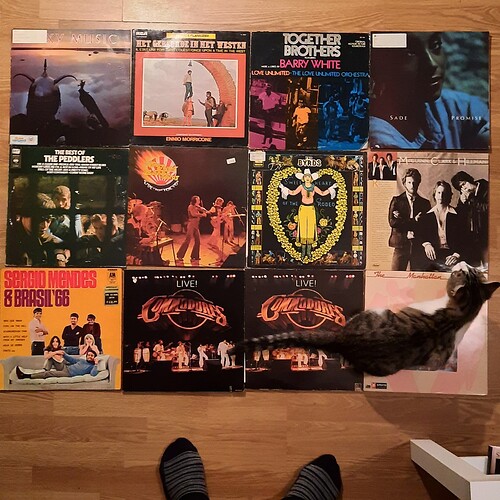 I started purchasing vinyl sometime in the early to mid 70's. Even when vinyl was phased out in favor of CD's in my area in the late 80's I continued to purchase the occasional used album. Due to living in hurricane territory along the NC coast and having to haul my music collection out every time there was the threat of a storm making landfall I eventually put all my vinyl in storage. That was following Hurricane Floyd in the late 90's. Fast forward to the mid 00's and eventually, the advent of Record Store Day and I start purchasing new vinyl again despite not having a working turntable. Fast forward again to just a few years ago and I finally break down and buy a used stereo system. Vinyl purchases had already picked up due to the inclusion of download code cards but picked up even more once I had a new system, especially reggae and rocksteady. Then, just a couple months later the receiver starts acting up.
Now, to the present. In my current living situation I have no room for physical media of any kind, all of it is in storage. Unless I experience some unexpected financial windfall, which isn't likely, I'm looking at the very real possibility of having to part with all of my physical media (vinyl, cassettes, CD's, DVD's, books, and magazines). This is a situation I will try to avoid if at all possible. I don't consider myself a luddite (perhaps I'm in denial) but I do prefer my physical media. Fingers crossed that I don't have to part with any of it but at present those chances appear to be slim to none.
I still have my old vinyls from 1985-1995. It's not so many, maybe about 30 albums, including the whole beginning of New Order, some rare house music, an Oingo Boingo and other unrelated stuff. I got no way to play them and… honestly? No interest either. I just keep them out of affection, but I'd part ways with them given the right price.
I already gave away almost all of my CDs, and that was about a thousand of them, many self-authored. I kept only a few, including all the R.E.M. I had (still missing LRP, which I can't seem to find in this goddamned country) and a few carefully chosen ones.
About 150-200 cassettes, none of them original (all compilations I recorded myself), are here waiting for a new home as well. I could never just throw them away.
When I had to purge a bunch of stuff I never thought I could never bring myself to part with in 2020 I was unable to do so with my cassettes. Same reason, the vast majority of mine are mixtapes that I spent countless hours compiling. I put far too much time and effort into them just to throw them away.
I wish I had kept my mixtapes, but most of them I made for others.
with Demis Roussos singing and playing bass!
I remember "Rain and tears". Always hated that song with a passion, lol.
[quote="Miracle, post:13, topic:793, full:true"] I made this box for my 45s. Open and closed. And the little orange one, remember those haha.



[/quote]
Very cool.
My DJ Shadow collection. I could have also put Psyence Fiction on here, but opted out, because it's more of a collaboration project.

I'd have to revoke my Supernatural fanship if I didn't love Carry On Wayward Son (jk)
However, I do love the harmonies in this song.
edit [harmonies] on the whole album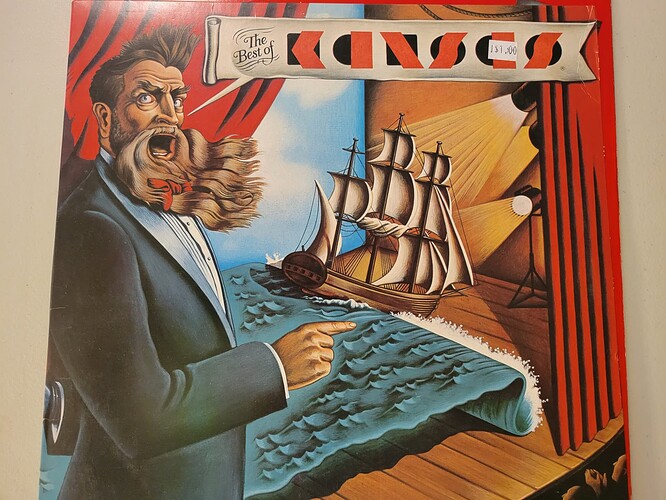 The Psychonauts, though relatively short lived, have influenced me. Pablo Clements went on to work on 3 UNKLE albums and since 2011 has been the other half of Toydrum (definitely worth checking out, but make sure its Pablo and James Griffith, there is another Toydrum)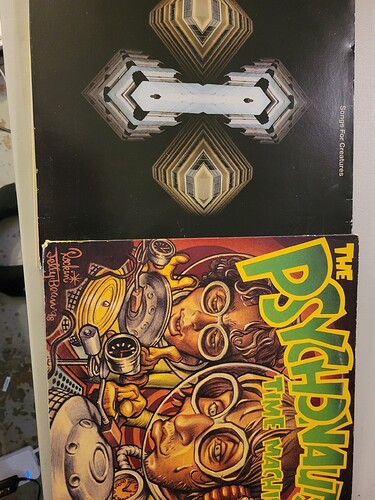 What the heck, I made these for my albums, sliding lids with handles. The whole foreground is cassettes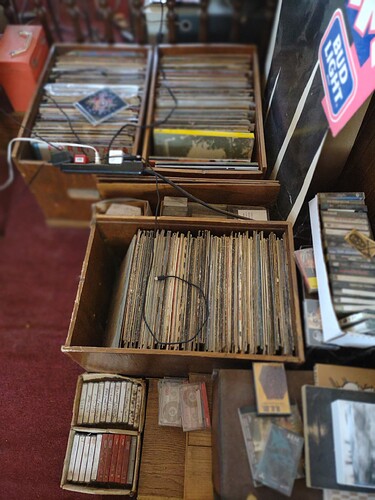 Sorry about all the cords haha
Haha. There's a big shot of a white cord, right in the view of my pic.