Listening to a lot of The Cars' first album. What a debut.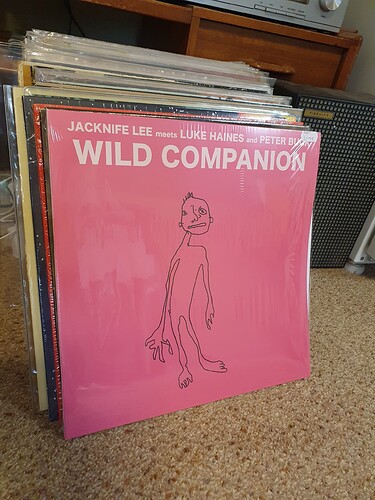 My latest RSD purchase. An odd album becomes a little odder. I like it, but it mostly makes me want to listen to the original album.
I remember vividly seeing the Cars before they were well-known, opening for i think it was Styx. It may be the only time I've ever wished the opener could have come back instead of the headliner.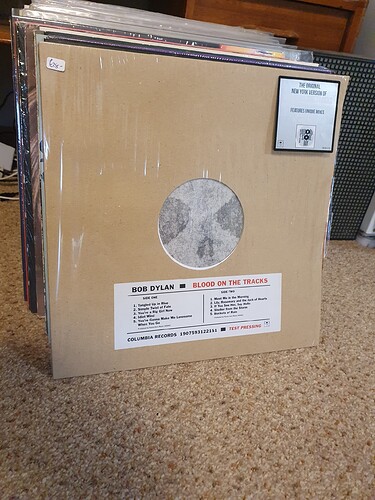 Inspired by the Bob Dylan thread, I'm currently listening to this RSD purchase from a few years ago. It's a test pressing of Blood on the Tracks. It's quite different to version that I'm familiar with. I remember reading at the time that this was how the album should have sounded. I kinda disagree with that. But the songs are, obviously, brilliant, so this is still a great listen.
Bonus points to anyone who can identify the record behind, partially visible through the hole in the middle…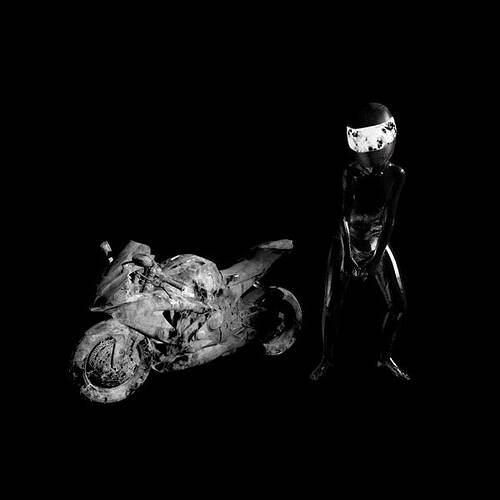 Anyone else listening to this? MJ Lenderman. I hear Uncle Tupelo and some of the best Alt Country stuff. Would not hate a run on new bands of this genre.
I like this "futuristic '80s" approach a lot. Been finding myself a goth kid at almost 50, lol. A neogoth, if you will.
Can I say how amazing Tom Petty's work was in the 90s? I've been listening to a bunch of the stuff that was released posthumously from the Wildflowers era, and it is all fantastic. Songs like Somewhere Under Heaven and Leave Virginia Alone were outtakes twice, (both from Wildflowers and then from She's the One) and they are just such great songs. And everything that actually was on Wildflowers. One of my favorite albums by any artist.
(on the topic of a great song being an outtake multiple times, R.E.M. did that too at least with Ages of You!)
Porridge Radio, a British indie band, were poised for a major breakthrough when their previous album, Every Bad, was released to mass acclaim in early 2020, but the pandemic put a lid on all of that.
Now, however, they have an amazing new album out and are making up for lost time. Waterslide, Diving Board, Ladder To The Sky is just as brilliantly engaging as its predecessor.
The best way that I can describe them is as being sort of like The Cranberries, except better.
Here are a couple of older Porridge Radio songs from 2020…
Here are a couple of tracks from the brand new album…
They were so prominent on the radio in the '80's. I love the Eurythmics I recently bought their ultimate collection. One of my fav songs.
I See a Darkness is a fantastic album. I went through a Bonnie Prince Billy kick a few weeks ago.
Ha! I forgot that I posed that question! Kudos for getting it! And bonus points, for whatever you choose to use them for…
Yeah, funnily enough, I'm listening to him right now. A live album called Is It the Sea? that he recorded with Alexander Neilson from Trembling Bells. Not usually a fan of live albums, but this one is awesome. He did an album with Trembling Bells, The Marble Downs, which is worth a listen too.
I'm nowhere near being familiar with all his work, but I'm having a lot of fun getting there! I See a Darkness is my favourite.
In the car, Lilly Hiatt - Walking Proof.
I'm loving this record. P-Town - "Don't you hate when people say, "It is what it is"… Made me laugh because my husband says that a lot and it annoys me. Next time we drive together I'm going to play it & we are going to laugh together. Also, I traded my old car late last year, I had to show off my new car's dash & it's sound system. I know it's outdated already but compared with my old car, this is a set up.