I was at the September 13 show at red rocks. I would love to get a copy of that tape.
I have a friend who's very into board games. He has a room devoted to his board games, and a very patient wife! I'm partial to a game of Ticket to Ride myself. Used to play Carcasonne a lot, too.
I have some adhd tendencies to jump from hobby to hobby. I taught myself to knit a few years ago, dropped it for two years and now I'm back at it. Nothing fancy though. I've been working on the same blanket forever now.
Over the winter I got into reconstructing old leather jackets. I made a GIANT tote bag & a bunch of bracelets.
I have a stamp collection but not in a serious way. I had pen-pals for 20+ years & stopped 10+ yrs ago. My stamps are just ripped from the envelopes and re-glued onto blank pieces of paper designated by country. I don't remember how many pages but it's easily over 100.
I hoard house plants, but not too seriously. I just like them.
I like NYTimes crossword puzzles.
I love to find & resale used clothing. My favorite find thus far has been a Balenciaga leather jacket for 80€. I'm keeping that for myself though.
I listen to a disturbingly large amount of true crime/murder podcasts.
I run my keyboards through a guitar pedal and amp. I plug the 1/4 inch into the headphone insert–>pedal–>amp. It comes out really cool sometimes…
…sometimes, not so much.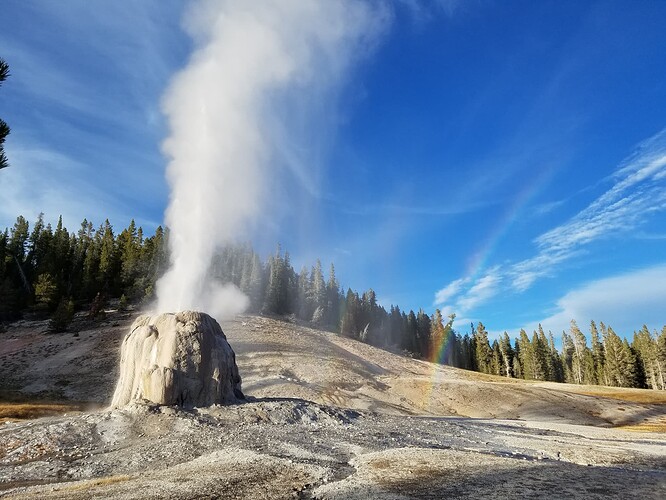 Geyser gazing. This will be my 35th year visiting Yellowstone National Park, 13th working there. I've also been to Iceland and New Zealand to see them. Definitely more obsession than hobby… Photo is Lone Star Geyser in Yellowstone.
That's fascinating! I'm a little jealous of you!
Hi Donna! Geysers are rare and often very beautiful, and I have been truly lucky to see what I have and spend so much time in Yellowstone. I am not a scientist by training but I have tagged along with researchers a lot over the years and I am endlessly fascinated.
A new one added to my unusual plants. Last Christmas, my son gave me this sweet dolphin ornament with what we thought was an artificial small plant stuck on top. I displayed it in the living room. After a few weeks I noticed the leaves turn dull & dark, & I realized the plant wasn't artificial at all, it was an Air Plant or Tillandsia I tried to save it after looking up Air Plant care, but it was too late. Yesterday I was at the garden store & found another one to replace it.
Apparently they need an occasional good dunking in water & fine misting now & then, I'm learning how to keep these plants alive.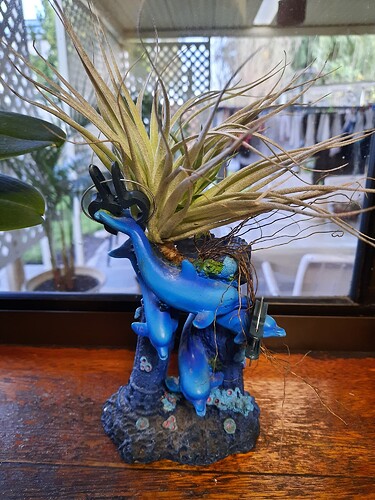 That's a good one.Any founding fathers or mothers there?