Edward Hopper, American painter (1822-1967) born in New York state.




I discovered this painter after installing a Mac OS desktop wallpaper. The painting is called "Nighthawks" from 1942. I founded it beautiful and was instantly captivated by Hopper's art. At first, the painting reminded me of a film I had seen a few years ago. I watched "Songs from the second floor" (Sånger från andra våningen) on the recommendation of a friend, the film is totally disturbing anyway, but there is a scene which takes place inside of a coffee shop of very wide glass windows. Through this ample window you can see from the outside what's going on inside the cafeteria.

After seeing this painting I'm planning to buy an Edward Hopper book, the one I saw at amazon was rather pricey at about $40, though I may be able to afford it now that I am done with my R.E.M. catalog purchases.



Hopper is probably the second painter in which I have a personal interest. The other is Québec's Jéan-Paul Lémieux.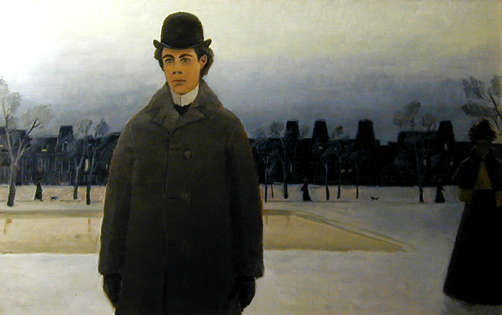 I used to have a litograph of this painting in my room, though it now belongs to someone else after a move, back in 2007, when I had to abandon many things at my old appartment, as I was trying to avoid overweight baggage penalties at the airport. In 1984 Postes Canada commissioned Lémieux to represent each of the provinces and territories of the country. With some luck you may still find the set of 12 stamps for sale on ebay.